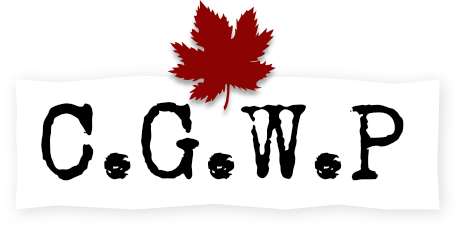 Registration
Authenticate with ORCID
Become a contributor
Registration is not automatic. For everyone's benefit, each application gets vetted by a person. This means that it might take a few days to sort everything out, but it helps ensure the security of the application.
NOTE: if you don't have an ORCID account yet, sign up for one now and come back to this page.
The registration process works like this:
When you have an ORCID account, click the '

Authenticate with ORCID

' button.
ORCID will ask you if it's OK for CGWP to access your ORCID Record (see below for more on this). Click the 'Authorize' button.

Fill in the form and check your email.

A human being will vet your request and (probably) approve it.
Once you've filled in the form you are able to log in to CGWP, but until you're approved you will see something like this:

External authentication rationale
A key part of the CGWP mandate is community engagement. As such, any member of the public that is interested in assisting in the development of CGWP is encouraged to get in touch with us to begin the process of becoming a contributor.
Part of the process is providing a method for contributors to log in to our site. In order to maintain the security of the site and the privacy of our contributors we concluded that there are two main options available to us: an in-house, locally managed system; or an external one.
Publishing a website makes it a target, and a much larger target when people can log in to it. To deal with this your security needs to be good. Security is hard, and not our area of expertise, so it made sense to look outside for a solution. We considered using several different providers, including the various social media offerrings. We chose to avoid these solutions due to their fundamentally predatory nature.
We settled on using an external authentication system provided by ORCID. The non-commercial nature of ORCID, and the level of control they offer over profiles makes them an ideal provider from our perspective. That said, we encourage you to research ORCID and learn something about their organization. To be clear: there is no financial consideration at play here. No money or favours are exchanged.
This is a good spot to tell you what we know about you and the information we store. When you sign up we ask you to provide a user name (for display on the CGWP site), an email address, and your ORCID name and iD. We store these things in our database along with the level of responsibility you have been granted. Each time you sign in to CGWP we also store the time you signed in. We have no access to any private portions of your ORCID profile, including your password. Nor does ORCID have access to anything you do on the CGWP site - the only thing they might know is when you use their service to authenticate for a CGWP session.
When you first log in to CGWP with your ORCID iD you are asked if it's OK for CGWP to access your ORCID Record. The only access CGWP has is the ability to ask ORCID to authenticate that you are who you claim to be. After that ORCID transmits your ORCID name and ORCID iD back to us. Note that this information is public even on the ORCID site.
Logging out of CGWP/ORCID
When you log out of CGWP you may want to go to the ORCID site and make sure you are logged out there as well. This is particularly important if you are on a public computer.
Here's why: when you log in to CGWP we create a 'session' on our server that stores information like your name, ORCID iD, and your level of responsibility. To see all of the information we have about you, see your contributor page. We store that information in order to pass it along to each CGWP page you visit on the site - we do not share any information with anyone else, including ORCID. The session lasts until you click the logout link (you are automatically logged out after 24 hours).
No authorization
If you were redirected here instead of seeing the page you expected, it may be that you are not authorized to see the page. Certain parts of the site have access restricted based on the 'role' you play. So, if someone attempts to access a section that they do not have permission to view they will be redirected here.
Authentication issues
If you successfully logged in to ORCID but ended up here, it's because we can't find you in our user database. There are a couple of reasons for this occurring: you have an ORCID iD, but haven't registered it with CGWP; or, there is a problem on our end. Either reason is cause to contact us. Please provide the name you gave ORCID when registering (typically your first and last names) and the ORCID iD they gave you. An ORCID iD is always a 16-digit, hyphen-separated number, like 0000-1111-2222-3333.
Authentication failed
Some errors are the result of authentication problems at the ORCID end, while others may be the result of a network error. If you've tried several times already, try logging in to ORCID here and coming back to the CGWP site.